(Cobble Stones, Interlocking Paver, Concrete Paver, Brick Paver, Paving Stone, Driveway Pavers, Patio Paver)
What ever you call them, the possible applications for pavers are only limited by your imagination. The concept of interlocking pavers or paver stones dates back over 2000 years to the Roman Empire. Their cobble stone roads were constructed with a well compacted foundation. The permanent surface was tight fitting cut paving stones or cobble stones. Today, we have the knowledge of experience and science to further improve on the interlocking paver system.
The ICPI (interlocking concrete paver institute) is a trade association dedicated to improving the paver industry through training and certification. The ICPI has set standards for paver systems, that help insure a trouble free install for life Landscape Innovations has ICPI trained and certified installers on staff and we do not sub-contract our paver work like many of our local competitors. Due to our understanding of these industry standards and over 20 yrs experience in the landscape/ hardscape contracting business, we are proud to offer a 2yr workmanship guarantee with every hardscape install.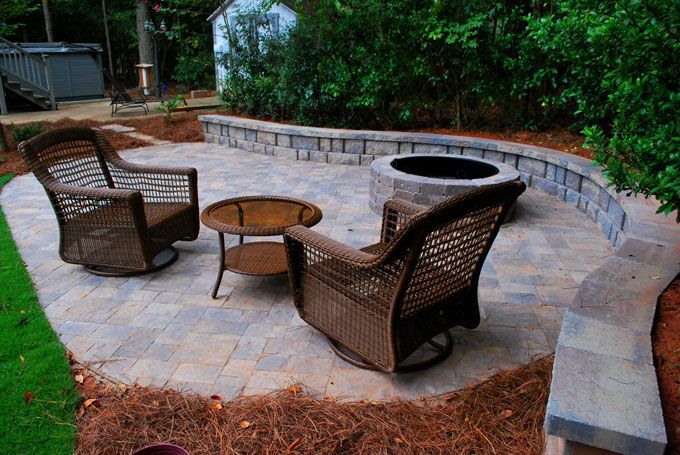 An interlocking paver system is comprised of several components.
First, is the compact sub-grade, which is the existing soil excavated to the appropriate elevation and followed by a layer of geo-textile fabric. Second, is the compacted base material, which consists of compacted gravel to a depth of 4 to 12 inches(application dependent). Next, a layer of bedding sand, and last, the actual pavers. The entire perimeter is then surrounded by an edge restraint system and joint sand is swept and vibrated into the cracks. The entire area is compacted again to produce a hardscape that will last a life time.
The modern paver options of style, color and even materials are much more varied and new techniques that use geo-textile fabrics and better engineering practices have further improved the life span of installations. There are 4 categories of patio pavers available today; Click on any of the categories below to read more on each type of paver we offer.
Concrete Brick Pavers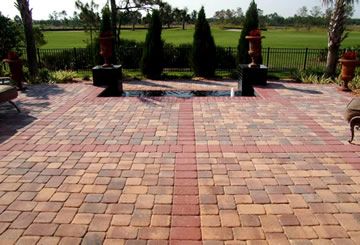 Local manufacturing and availability of a diverse range of shapes, sizes textures and colors makes concrete pavers a simple "one-stop" design tool for creating any hardscape item you want. Multiple level patios, fountains, steps, retaining walls, fire pits or even fireplaces can all be color coordinated with like products offered by the same manufacturers of the pavers you fall in love with. Due to these factors and price, concrete pavers have become the most widely used for hardscape projects.
Clay Brick Pavers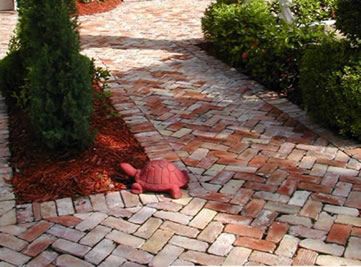 Clay brick manufacturers offer an amazing range of colors for new high strength brick pavers while other brick distributors sell recycled brick from the last 2 centuries. The old world charm of brick pavers always adds a touch of timeless to a garden patio.
Natural Stone Pavers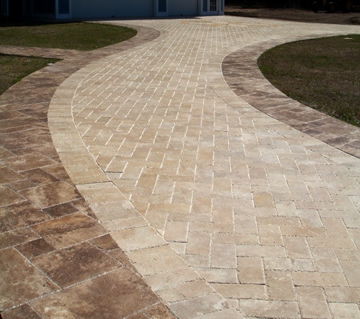 Quarries around the globe mine all types of natural stone and ship them to our market. From Pennsylvania bluestone to travertine from Italy & Turkey, exotic natural stone pavers are an awesome display of natural beauty in any paver project.
Flag Stone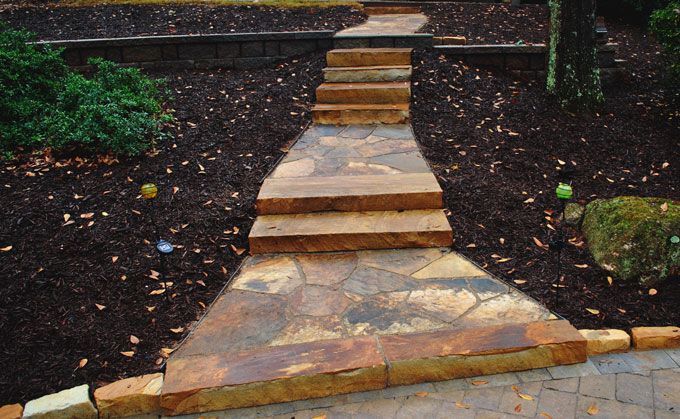 Probably the most calming and natural look of the bunch, Flagstone seems to be the most adaptable natural product available. Random shapes and numerous colors blended into one naturally veined surface are the signature design element that make it at home in nearly every architectural style.
Whether manufactured or natural, These paver choices make it possible to create any style project you can imagine. They can all be used as patio pavers, driveway pavers or to build a paver walkway to an outdoor living space. Landscape Innovations wants to be your paver contractors. Combining different materials creates even more unique artistic flair. We can install any combination of these paver surfaces to create the unique look you have been dreaming of. Lets get busy creating your masterpiece. Contact us today!