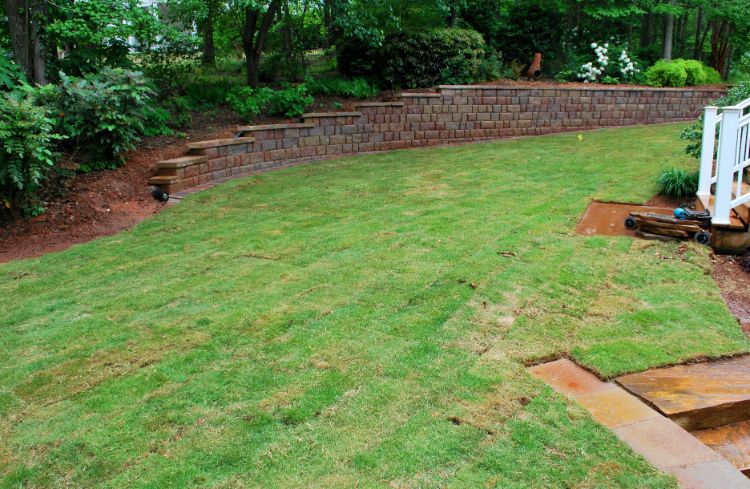 Sod Vs. Trees
At least half of our sod customers need our services because the amount of sunlight reaching their sod has changed over the years. If you are seeing more moss than ever before, it's the shade. Many of our customers are challenged with too much shade for grass but a desire to keep as many trees as possible. If you want both, you will be in a constant battle with mother nature. I am slowly losing the battle at my own house. I refuse to cut down my majestic oak trees or heavily prune my blooming cherry and dog wood trees, but that means I am constantly replacing small areas of sod. I want my customers to have a trouble free experience so my approach is based on a 10 year plan.
Six hours of sun light and removing lower limbs from trees to "raise the canopy" has consistently provided the 10 year results for our long term customers. Striking that "just right balance" of trees vs. sod will be determined by your specific lawn conditions. You will really need to study it closely. Taking pictures every hour on a sunny day will help verify how much sun every portion of your lawn is getting. If you have filtered light because your first limbs are way up the trees, estimate that sunlight @ 40% of full sun while calculating the total hours an area gets. A professional "arborist" can help you decide which are your healthiest trees, which can bounce back from HEAVY, rejuvanative pruning (if that's a word), and which ones should go.
The time of year is also a consideration. The longest day of the year and therefore the highest angle the sun will hit your yard from is June 21st. Every day prior to or beyond that date will have sun streaming in from a lower angle. April – May & August – September will be increasingly lower angle sun days. These angles happen twice as much during our growing season so optimize the amount of sun in the afternoon at these times of year if you are really close to too much shade.
Small yards and Home owners associations are often at odds because the mandatory trees become large enough to shade the lawn and slowly choke out the sod. If you have trees that your HOA insists on you keeping but your lawn is thinning, the only option is raising the canopy and/or heavy pruning to allow sun light. If you cannot reach 4+ hours of sun light, even Zoysia sod will not last. Alternative landscape designs that do not use sod may be necessary.