Architectural and landscape enhancements
Safety and security achieved with good landscape lighting design and placement
LED light bulbs offer efficiency, multiple color temperature ranges, smaller fixtures, long life, and excellent warranties
Innovative new features for landscape lighting
Professional design and installation practices
Creative light sources
Planning and budget for your new system
Retrofits
Warranty & technical
Architectural and Landscape Enhancement
Low voltage lighting systems allow you to showcase the unique features of both your home and landscape. The architectural detail of your home's design can take on a beautiful new look after dark. Casting shadows from up lighting, washing walls with down lighting, spotlighting special features, or simply defining the space around your home will transform its appearance after the sun goes down.
Dramatic effects come from unusual lighting angles like cross firing 2 spot lights from a low angle at the front steps of a colonial style home. Reflecting light off the ceiling of a front porch will make it glow with a warm and inviting light. Landscape features can be highlighted with yard lights as well. Landscape lighting can moon light a large open lawn area from high branches. Low, cross firing lights can accent a rolling terrain or super flat look.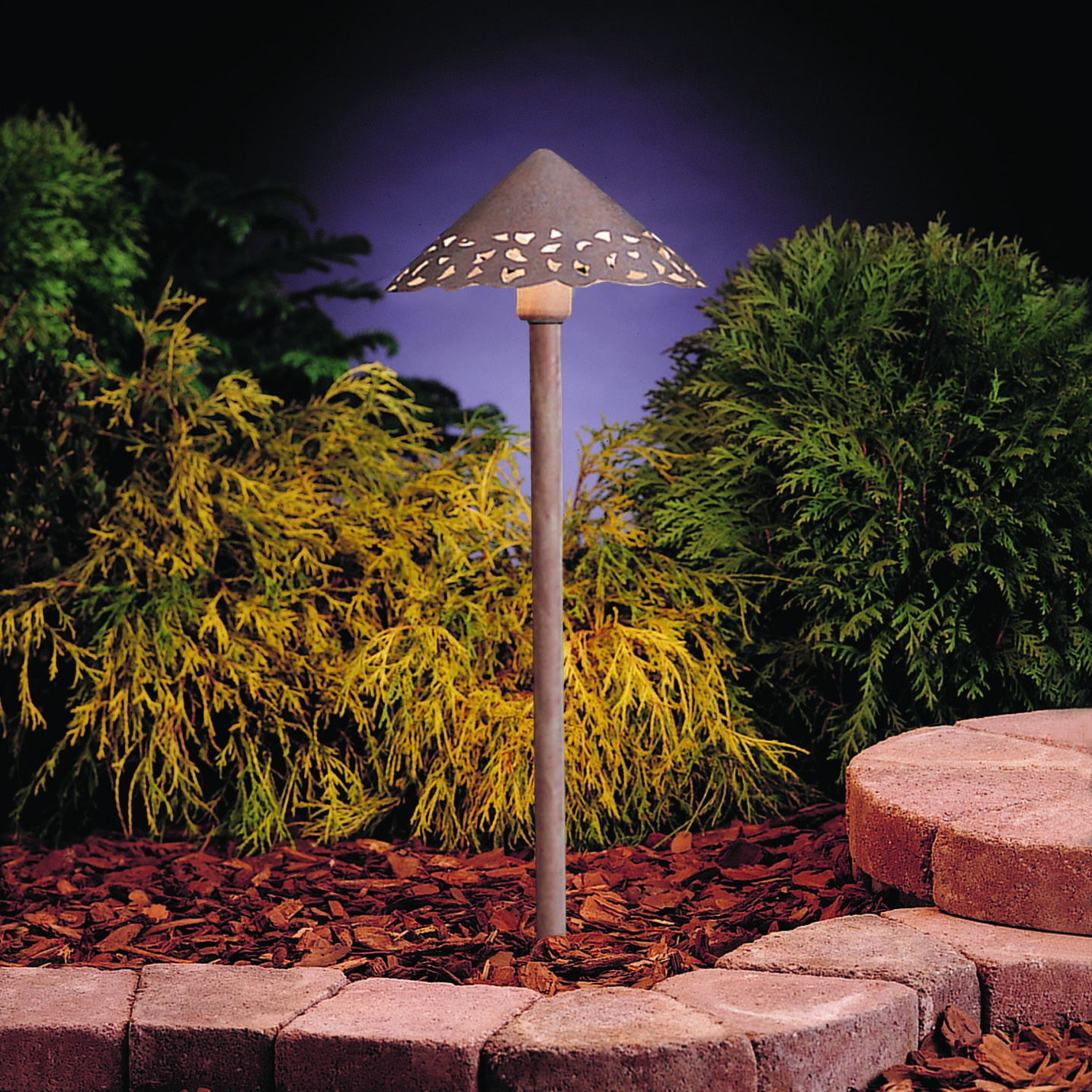 Landscape trees and native trees should be accented with outdoor lights either shooting straight up the trunk to light the tree from inside out- or spotlight them from a distance to create a focal point. Hardscape features of your landscape like Retaining Walls, Patios and Fire pits can be beautiful additions to your lighting package. Given the wide range of Landscape Lighting fixtures available from trusted companies like Kichler, Halco, and Unique Lighting Systems, the possibilities are endless.
Safety and Security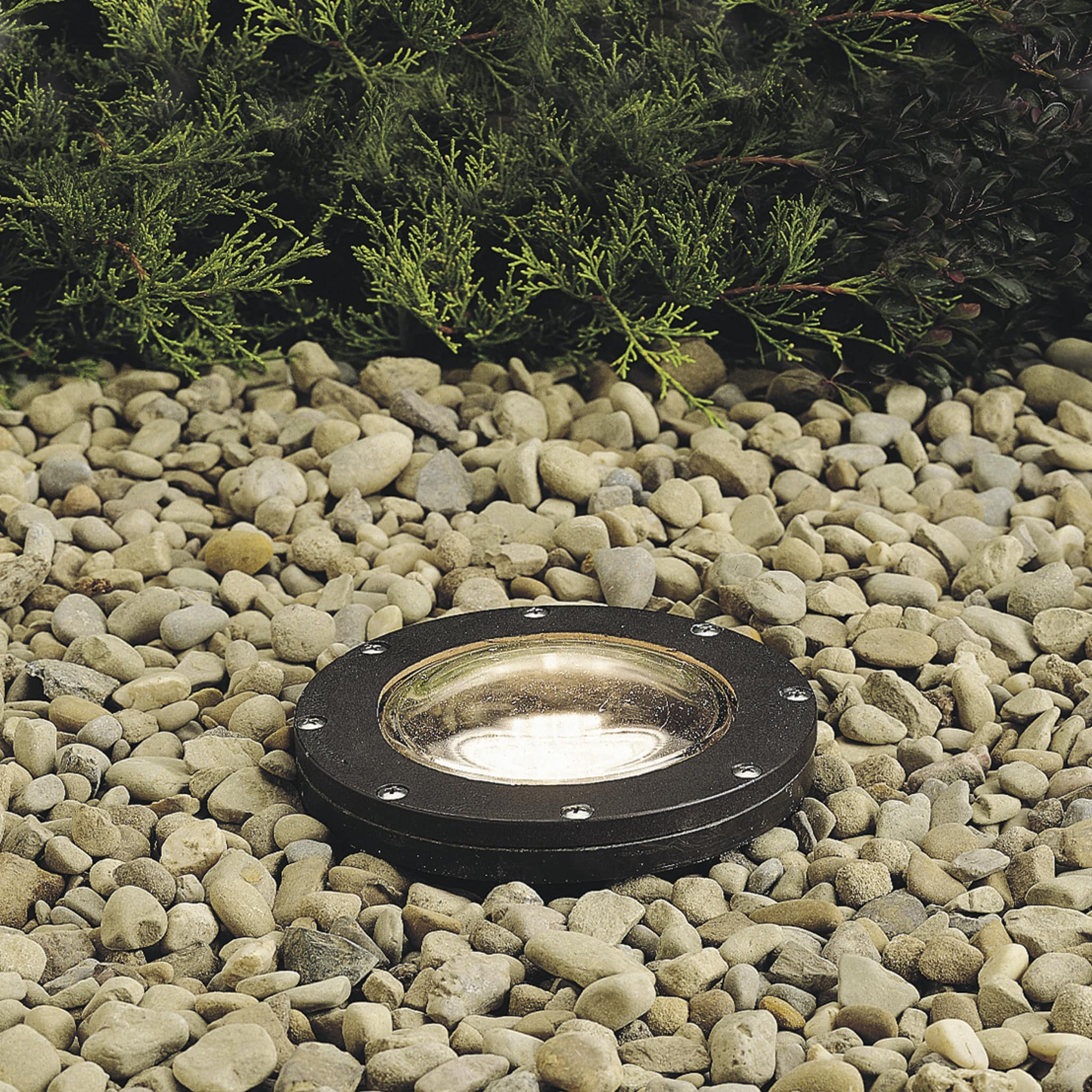 A professional landscape lighting package considers safety and security as part of the package. Lighting steps, paths, stairs, landings and all walking areas should be lit well enough to see hazards and surface changes to help you and vistor's maneuver in the dark. A light shining on the mailbox number isn't just for the pizza guy, emergency services can find your house quickly if they can see the number. Also, security lights do not have to be super bright "in your face" lights. Gentle down lighting from high tree branches or the eve of your home can provide "just right" lighting to erase the darkness. Taller path lights of post top landscape lighting fixtures can be added to fence and deck posts. Erase dark spots around your home to make yours less inviting to a would be thief. With a new outdoor lighting system, you can turn off the flood lights currently set on automatic or motion sensitive and save power.
LED Light Bulb Advances in Landscape Lighting
Advances in LED technology have made landscape lighting fixtures more reliable and efficient, and the size and shape options are incredible. Innovative Outdoor lighting, Low voltage lighting, landscape lighting and security lighting can now be one in the same. Energy efficient LED lighting (around 10 times more energy efficient) offers choices never before available. You can light up the perimeter of your home or property with light fixtures that use as little as 1 watt for path lights and 3 watts for floods.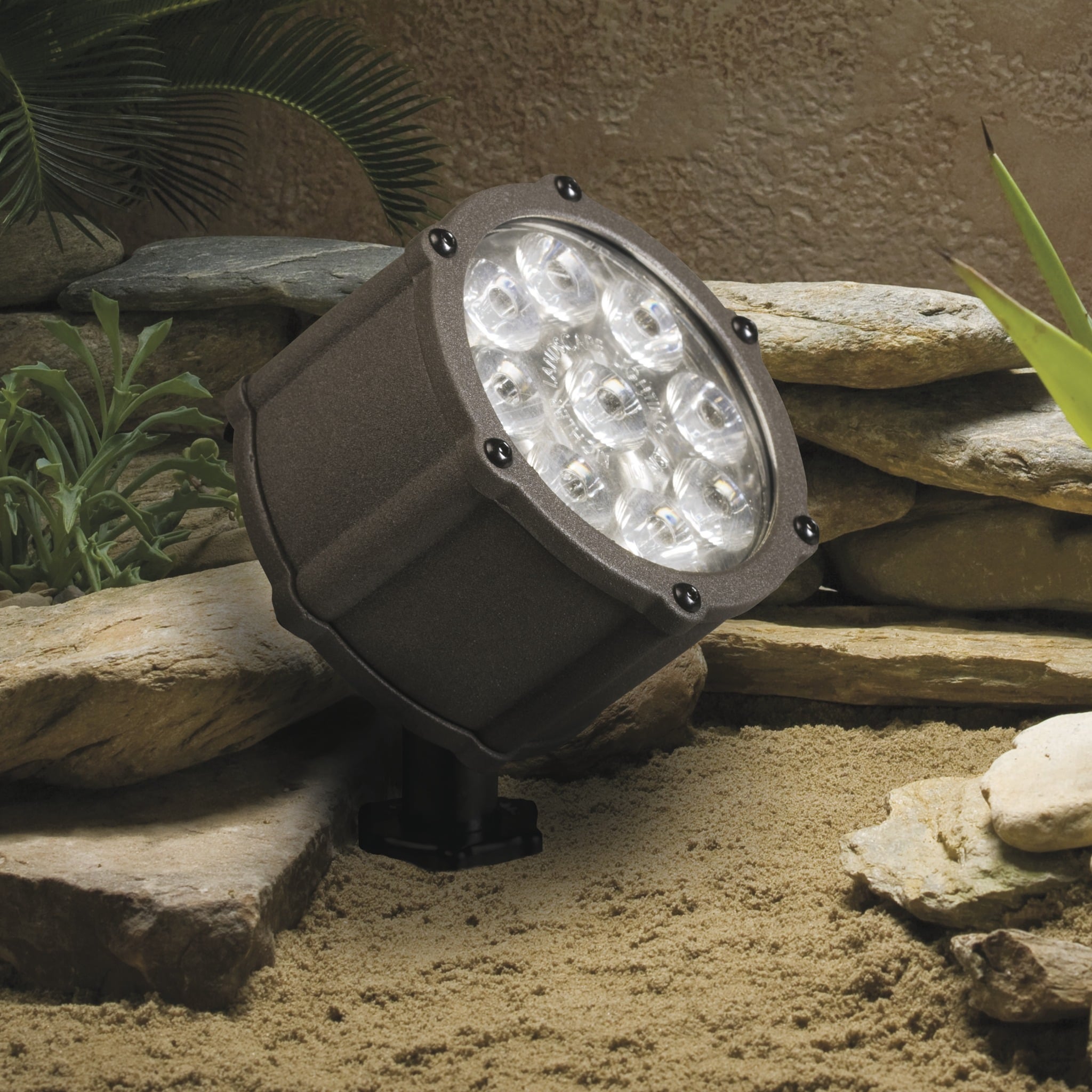 There are Led strips for hardscape lighting, LED bulbs for nearly all existing, or new fixtures, & factory sealed fixtures with up to 9 built in LED's that out perform the brightest conventional bulbs and last 10 times longer. The color temperature (measured in kelvin), wattage and beam angles are available in numerous combinations due to the LED technology. New LED landscape lighting packages use a much lower wattage transformer (150-300 watt) than what we were installing just a decade ago. Your new low maintenance landscape lighting will also lower your power bill. Turn off the house corner floods and let the landscape light package provide hours of light for the same or lower cost.
Innovative New Features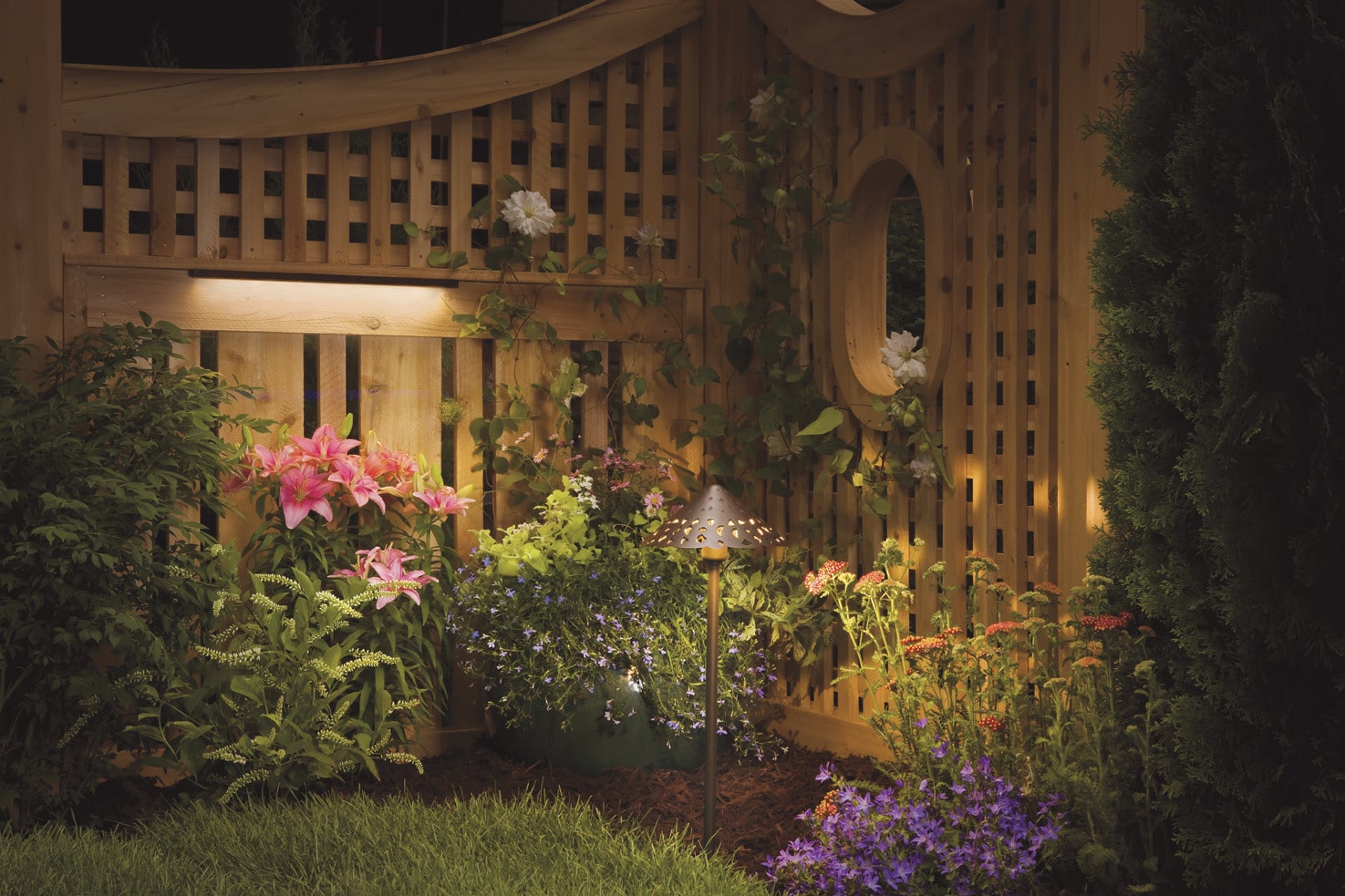 In this age of digital technology, new products are coming to market every year. This year, the "big idea" is Zoned controllers. Multiple zones and multiple on off times, the ability to synchronize controllers, and remote control, all make the latest clocks worth the investment. Create different schedules and/or multiple on/off times for pool area zone, outdoor activity zone, patio or pergola zone, and a special "security zone" for late hours and vacation settings, then override the settings anytime with the remote control. Rumor has it, dimmers and color changing LED bulbs are next. The "RBG" (red,blue,green) bulb or fixtures and the driver technology already exists, the market just has to show interest.
Professional Design and Installation Practices
Like any trade, there are skilled, experienced pro's offering creative ideas and solutions that take pride in doing things right. We aim for the best we can offer on every job. "Going that extra mile" makes your landscape lighting installation just a little better and unique. We offer more creative effects, more thoughtful placement of system components to protect wires, lights, and hide controllers, nighttime final visits to put the finishing touches on the adjustment of every light fixture, and complete explanation of the system and how to operate or adjust it. When our warranty is over, for the cost of a simple service call, (usually $125 plus parts) we offer seasonal "tune-ups" to make sure every light is working and adjusted correctly.
Proper placement of most types of fixtures will provide light without seeing the source and add another dimension to the night time décor of your home. We look for unique lighting ideas that will create a beautiful vista from every room and every outdoor angle. When you want to define the borders of a space, you can post lights on fence tops & single posts, "Unique Lighting Systems" 6' "tiki" style lights with real oil burners on top with led light shining down from a hidden source, or simply use tall path lights. Some of these will show the source of light or shine outward instead of up/down but they are designed to offer softer, filtered light. Define the space of your deck or patio with railing lights or path lights.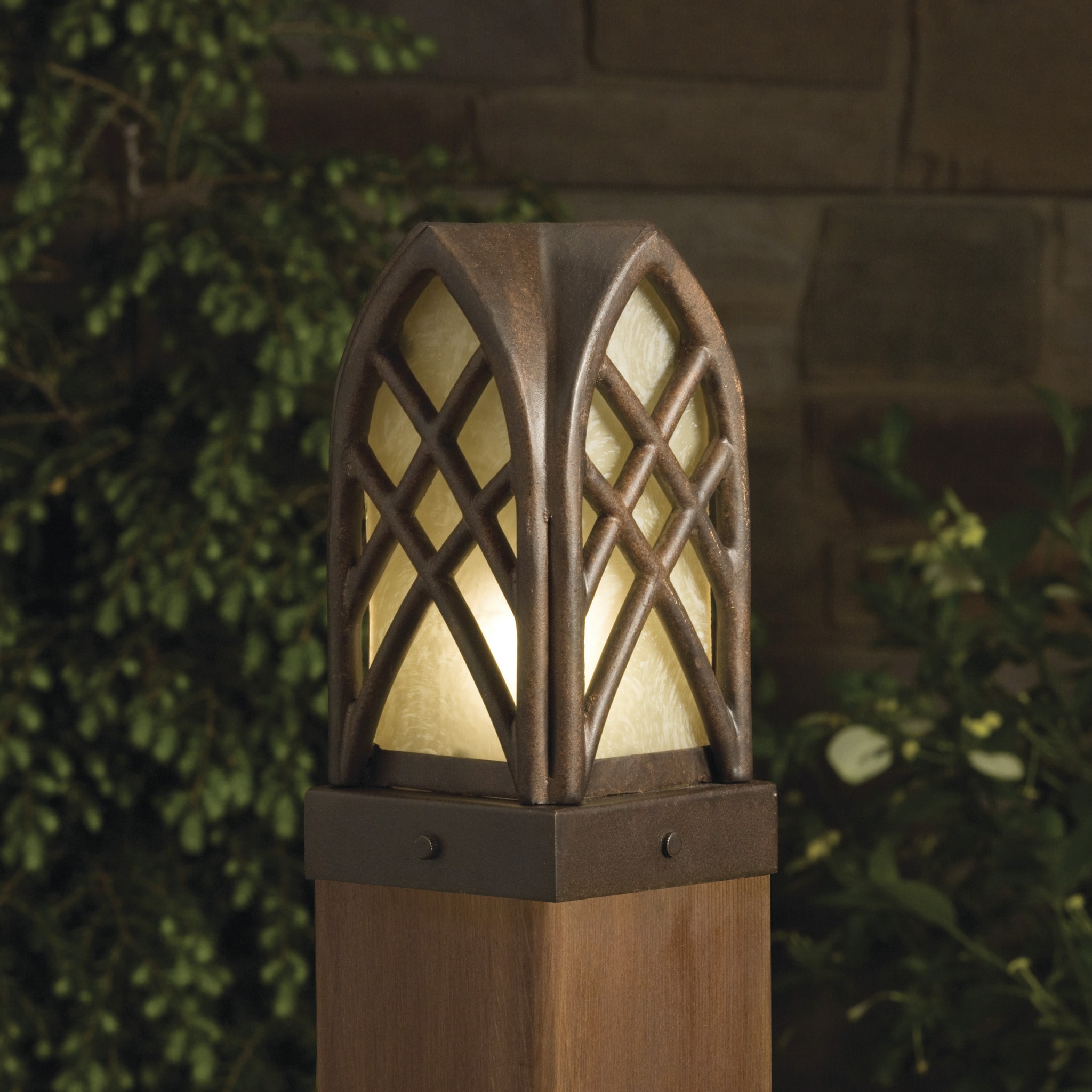 Place lights near outdoor steps and pathways so your eyes can stay adjusted to dimmer conditions while keeping safety first. Depth in the darkness can be created by placing landscape lighting fixtures at varying distances from the viewing angle. This aspect of landscape lighting design seems to be the most often over looked. A line of lights at a given distance can define or limit a space, but placing a few close by- then several more at varying distances will create a more inviting feel. When your yard is properly lit-up after dark, the outside space becomes an extension of the living space. Imagine being able to leave your shades and curtains open at night because you can see the outdoors like another room in your home. Watch the deer eat your roses when they think they are alone. A professional outdoor lighting installation by Landscape Innovations will truly be an innovative outdoor lighting package.
Call or Contact us for a Free Estimate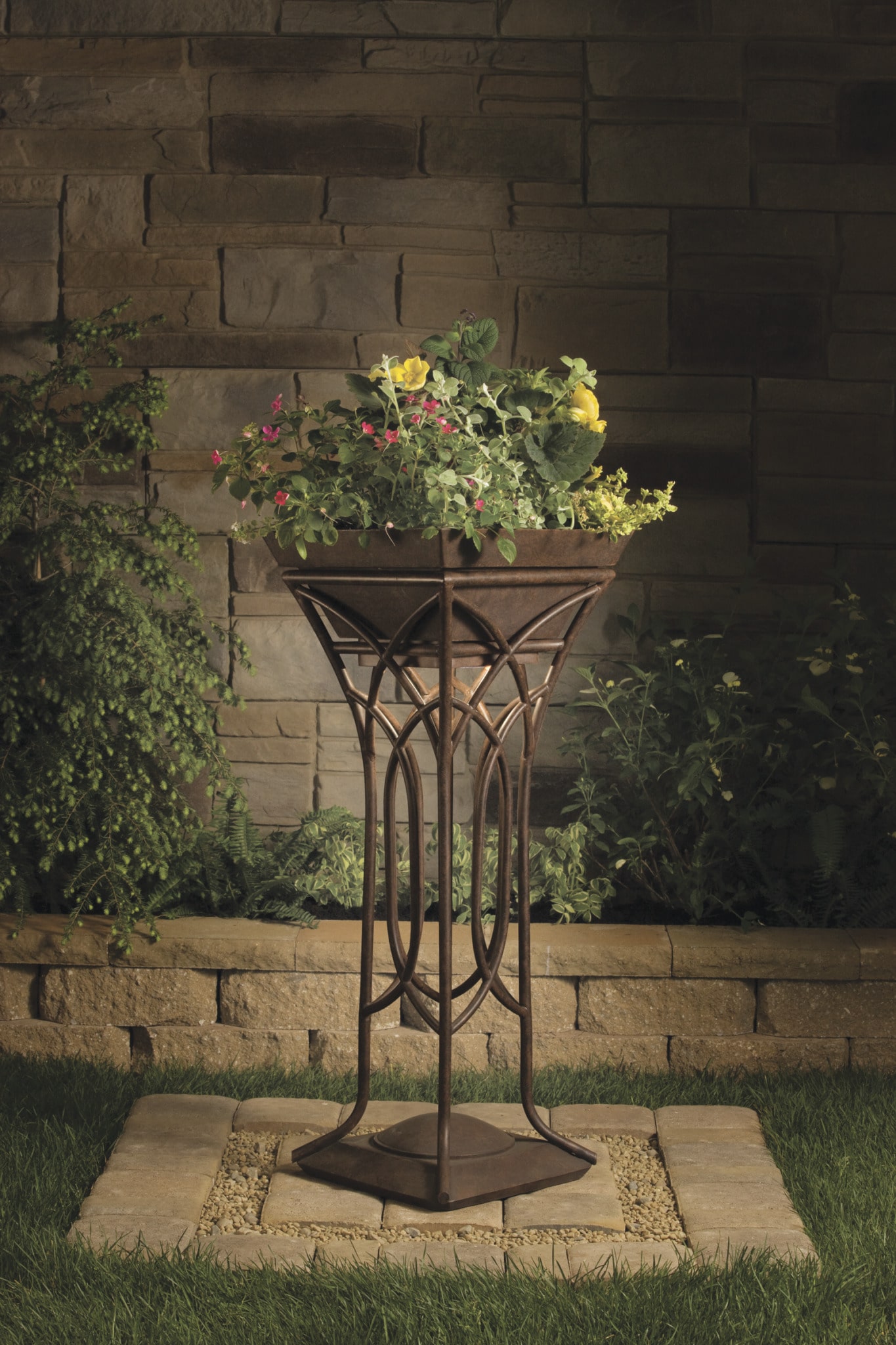 We can start by mounting fixtures at the top of a tall house wall or high in a tree to create a moon light effect. How do you change the bulb? Well, how does a 15 yr. warranty on factory sealed landscape light fixtures from Kichler sound? Next, identify and address safety concerns. We plan lights for steps, walkways and unexpected obstacles on your property. Is your street address plainly marked and well lit for emergency services and the UPS man? Are the areas you use most frequently lit well enough to alert you to new hazards like children's toys or unwanted visitors?
Finally, the fun part. Now we look at all the features that make your property unique and attractive. Special effects with lighting can even create features that are not there in day light. Cast a shadow on a blank wall, or dramatically light an otherwise boring feature. Every house has a few special focal points in its architecture or landscape. Working with different types of light fixtures and light focusing characteristics can really enhance the night time decor of your home. Sometimes you want to hide the light, and sometimes you want the light itself to attract attention.
Creative Light Sources
We can install a strip of LED's (2-4 watts each) on your house wall for a "wall washing" effect and the light is so small that it will go unnoticed in daylight. Kichler makes bird baths that practically glow in the dark, planters/stands with path lights built in, and "tulip lights" with colored glass light covers, adding color to the night. Varying the bulb color (warm white 2700k – bright white 5000k) or even introducing amber, reds, greens and blues with colored lenses will create more dramatic effects and/or add to seasonal decorations.<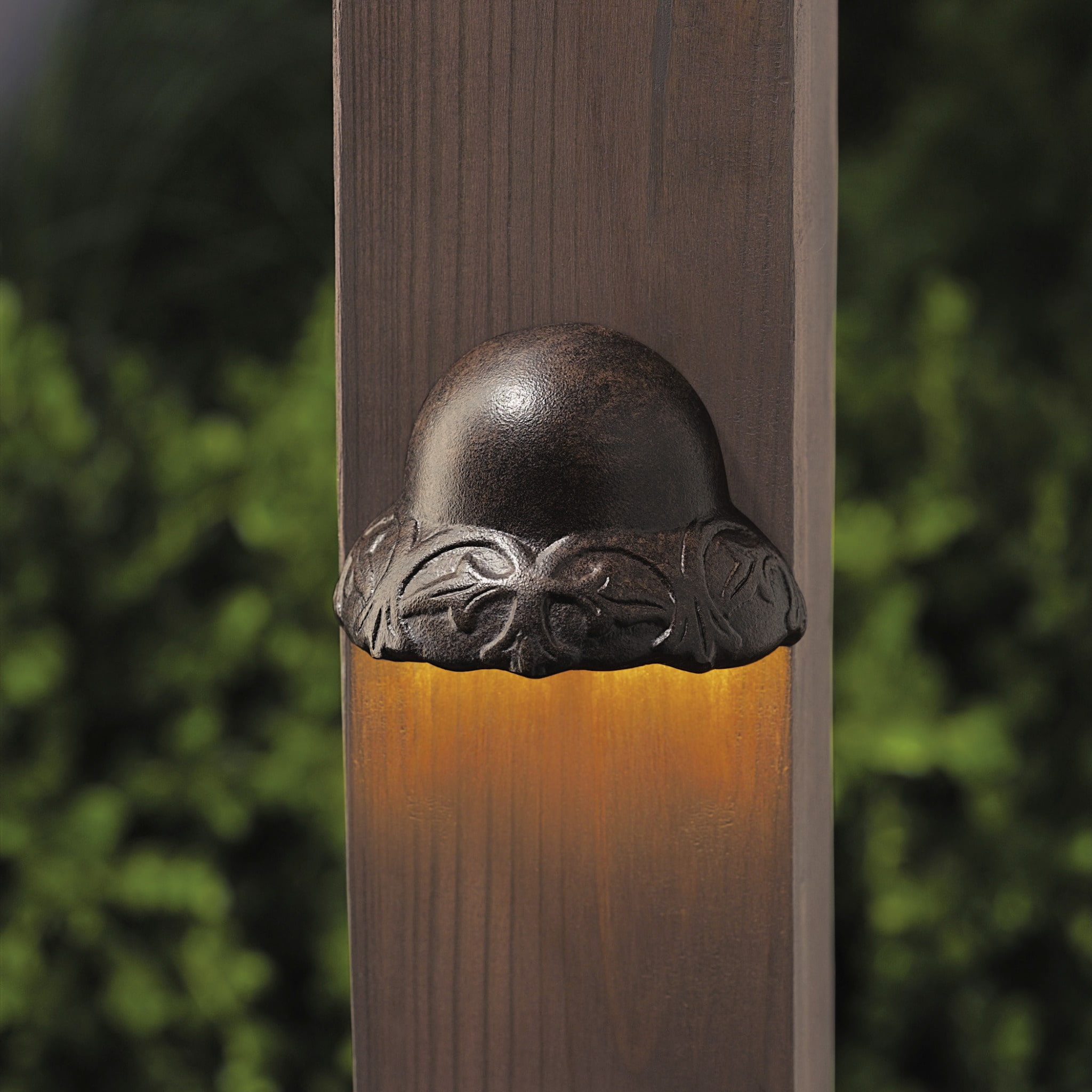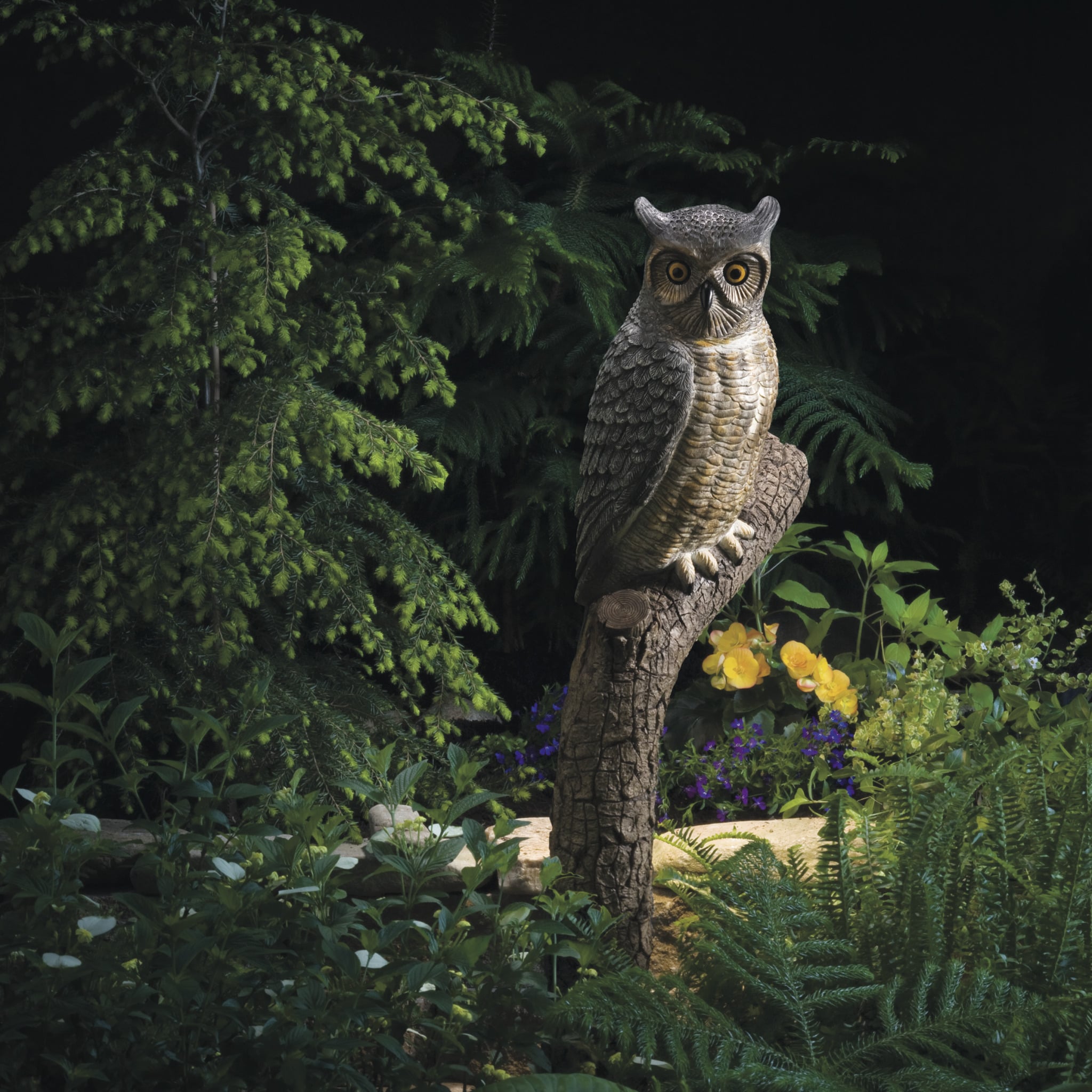 Squirrel and lizard light fixtures add interesting touches and the earlier mentioned "tiki" lights are my personal favorite. Sometimes it's not the fixture but the placement that makes it creative. Highlight garden art or create points of interest by placing artful items on or near a fence then spotlighting them. Shine through them to cast their shadow or back light a shinny or colorful work of art. Back-lit stained glass items and well-lit water features can be mesmerizing. Every home and yard offers unique lighting opportunities. Let us help you find them.
Planning and budget for your new system
As a marketing tool, there are teaser offers from outdoor lighting contractors in several mail-outs every spring for $1500-$1800. These are simple systems with the most basic fixtures and transformers. They offer an affordable, entry level option. Features, expandability, extensive warranties, or the latest led bulbs may not be included. They install the system in one day and leave. It will be up to you to fine tune the aim of the lights when the sun goes down. Plan ahead. Once you have a few lights, you will want more. Install a large enough transformer to at least carry 30 lights for the front and sides & the same for the back yard. Usually a 200-300 watt transformer will be large enough. These will retail for $350-$500 installed (lifetime warranty), depending on options like timers, or photo eyes. Sometimes 2 separate transformers front/back will be best.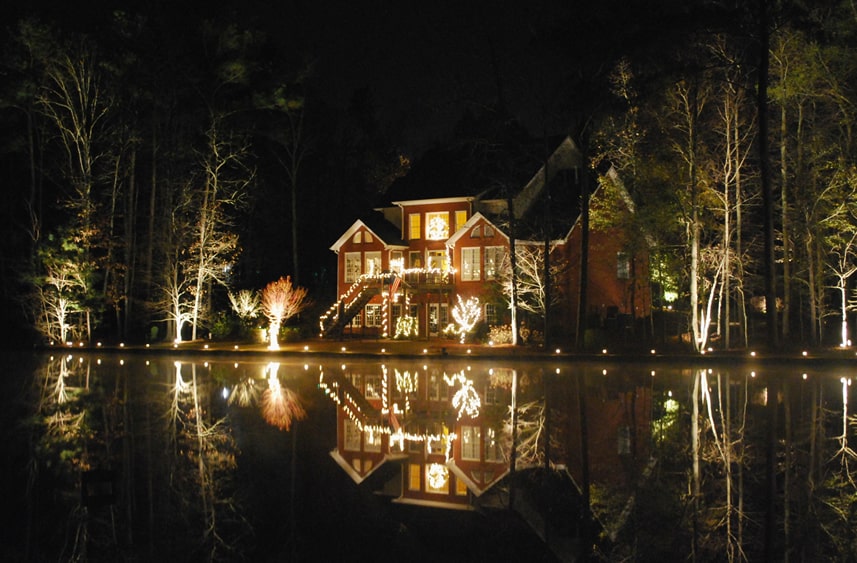 Consider the latest "zoned" controllers for future expandability and timer options. These retail for $700-900 installed. The light fixtures are offered in painted aluminum, through solid brass or copper. The sockets inside the less expensive fixtures will corrode more quickly. The nicer fixtures come with longer manufacturers warranties. Expect the most commonly used fixtures with LED bulbs to range from $125 -$200 installed. Led bulbs are the only bulbs we offer. No one likes replacing bulbs and high quality LEDs offer warranties ranging from 3-10 years. Buy high quality fixtures, bulbs, and transformers to insure worry free, long life from your lighting package. It will probably add less than 50%, but your satisfaction will be 100%!
Retrofit your Existing system
Professionally installed systems that are not taking advantage of the new LED technology can be retrofitted with LED bulbs and new controllers to offer energy efficiency and more timer options. Update the design with a few new, well placed lights, add a new outdoor space to the current light zones, create more safety or security. Seasonal lighting can be added to existing systems to offer color or spot lights on seasonal decorations.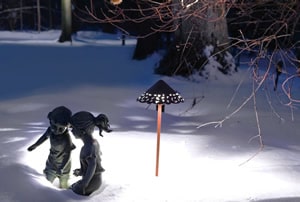 Warranty & Technical "Unique" transformers all come with a lifetime warranty. Their brass and copper fixtures carry 15 year warranties and their Led bulbs 4 or more years. We warranty our workmanship / installation for 1 year. Acts of nature or manually cut wires are not included. Example: Last year a lightning strike and hedge clipper caused the only service calls we had to make.
We design our wire layouts in a "hub" pattern where a larger gauge feed wire is run to several central locations. Those locations are the hub for lights in that area. This keeps voltages even across the system, reduces & centrally locates connections, provides the best expandability, and simplifies trouble shooting in the future. We always include voltage drop and wire size calculations to insure long bulb life and bright fixtures. Long runs of small gauge wire that is too small will cause problems. Led's will run within a much broader voltage range but delivering close to 12 volts to every fixture, offers future expandability options and avoids maintenance issues. By testing the transformer load to insure it is within the manufacturers specifications, we ensure the warranty will not be voided. Let us show you how to show case your home after dark. Call or contact us today.