We provide sodding or re-sodding services to our customers and sod installation and/or "sod preparation" for do it yourself-ers is a large part of what we do. If you want a simple sod installation or a comprehensive approach to correct more issues, we can help.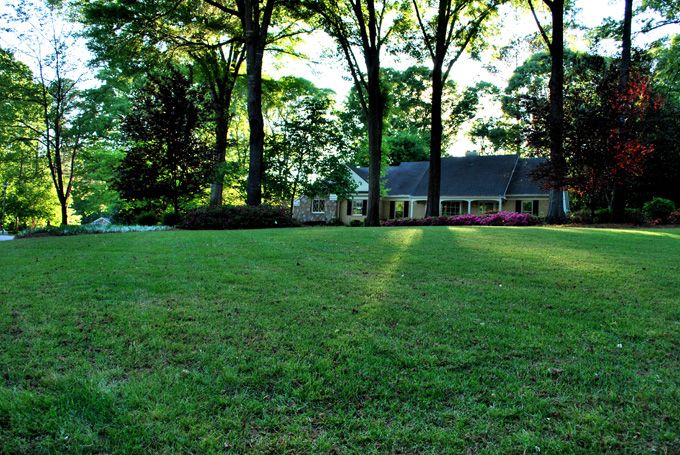 Sodding or turf installation is not just "digging in the dirt" or "green side up." Several steps should be taken to ensure success. Proper sod preparation should include amending soils with sand or top soil to create an absorbent layer of soil directly beneath the new sod. Tilling or mechanically turning over the soil to loosen it and mix in the new material really makes a difference. With just a few extra inches of good soil, your turf will grow deeper roots and be much more tolerant of drought, disease, and harsh winters. More absorbent soils also make better use of natural rain fall and cut down on supplemental watering with sprinkler systems. To install sod, contact us to set up an on site consultation. Please visit our tips page and see how we prepare a yard for sod.
What separates us from others is our process.
We start with an onsite consultation. We listen to your concerns, priorities, and time table for completion.
We also consider items on the wish list and any problem areas.
We will help you choose the sod that's right for your property.
We will offer a comprehensive plan to resolve problems, on time and in budget while including as many "wish list " items as possible.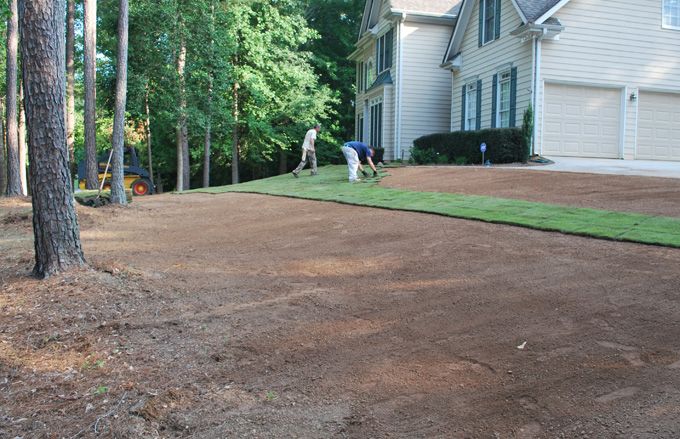 Hardscape items like landscape lighting and irrigation systems, outdoor entertainment areas, or retaining walls should be considered before laying sod.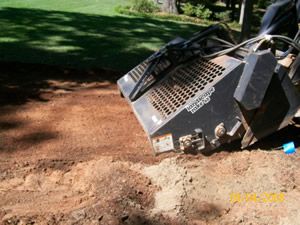 Our approach will plan all the elements of your project so things happen in a logical & cost effective order. Many of our yards benefit from better grading where the terrain flows more smoothly and drainage or erosion concerns are eliminated before planting sod. Flattening the lawn or blending the different contours of the property will help control erosion naturally and make the lawn grass more attractive. Nearly every yard will benefit from preparing a yard for sod or seed.
When grading and shaping the lawn contours is not enough to correct drainage problems, carrying downspout water away from the foundation with a downspout drainage system will help. Downspout drains and yard drains can protect against standing water near the house & leaky crawl spaces or basements. Consider a retaining wall or garden wall to level parts of the yard you use most often and redirect rain water at the same time. Install a patio, in an area that's too shady to grow grass. If more color from plants and trees is on the wish list, now is the time to create a planting bed while the yard is bare.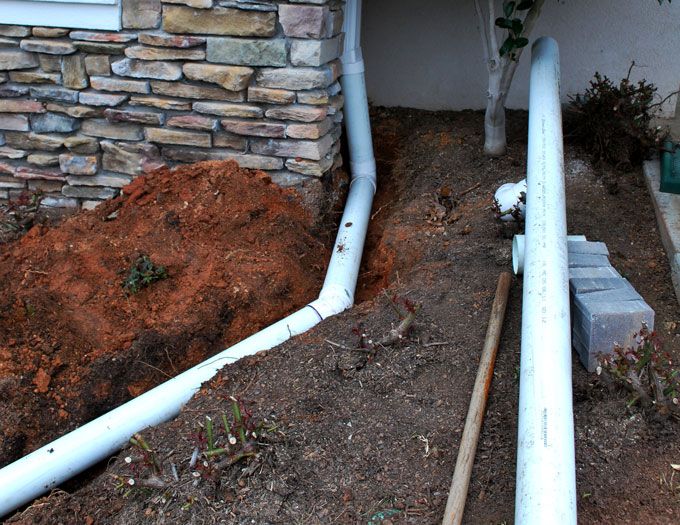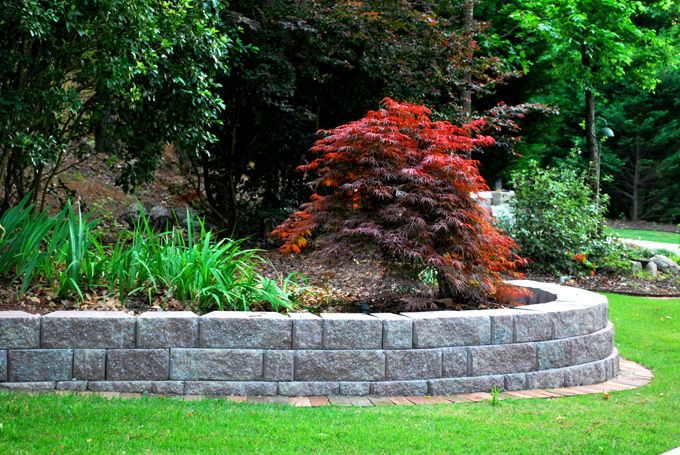 Our sod preparation method transforms "YOUR" soil into a rich, absorbent soil with sand and compost mix. This will promote deep and healthy root growth and resist compaction. The typical soil in Fayetteville and Peachtree City Georgia is a very fine particle soil that compacts very tightly. Working a sand component into the soil will break up the compaction and act as weak points in the compaction. Sort of like permanent cracks in the soil. The compost component reintroduces the ingredients necessary for healthy bacteria and attracts worms, (natures Aerator). If your yard is in one of the rocky areas of Sharpsburg, Brooks, or Peachtree City, it probably has ample sand but is lacking organic material or fertility so soil amendment for sod will still help.
Types of Grass or Sod for Our Area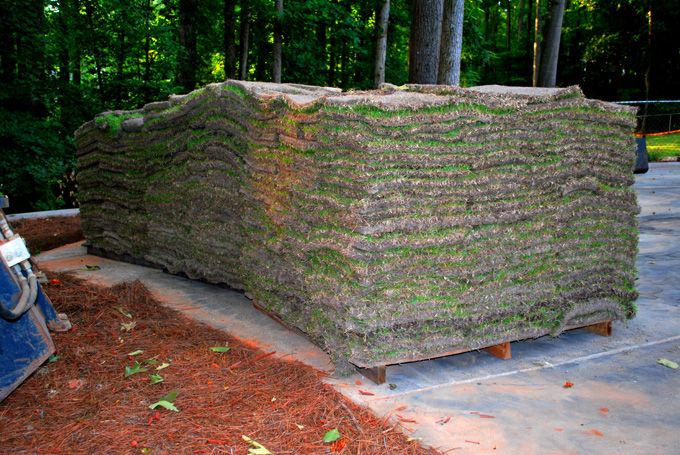 Choose the type of sod that is best for your needs. Emerald Zoysia & Myers Zoysia are considered by most to be the best sod for our region. Zoysia sod will thrive in the widest variety of sun/shade conditions and stays thick enough to choke out most weeds. Centipede sod is usually chosen for its low maintenance qualities. "The lazy mans grass" also grows slower than Bermuda grass. It requires less fertilization and tolerates the acidic soil of our area best. Bermuda sod is the least expensive, fastest growing choice of the group. It responds well to regular watering and fertilizing and requires weekly mowing to maintain its density and green color. Fescue sod and St. Augustine sod are also options in our region. St. Augustine grows well in full sun, but can also be a good choice in shady environments where its vine like qualities will help it survive. Fescue sod is usually chosen because it stays green year round but it requires the most TLC of any of your choices because it has trouble with drought, heat and over watering. For more information on choosing sod types, visit our types of sod page.
Once you have chosen the sod and we have addressed any other problems, we will need to make sure the existing weeds are dead. Coordinating the rest of the project before we begin will insure a quick completion and less inconvenience for you. Call us today to set up an on site consultation or contact us to request a return call.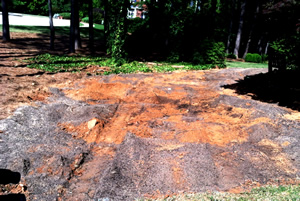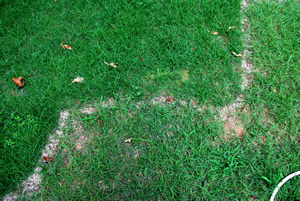 We can also perform top dressing to help blend new and old sod areas and make the yard smooth. A sand/organic material mix can be spread and raked along new sod edges or used to fill stump holes, low areas and generally smooth the surface of your lawn. In these pictures, the customer had an uneven lawn area that had washed out so we filled the wash with soil, re-sodded, then blended the edges with a top dressing mix. These pictures were taken 3 weeks later and the old and new grass has almost completely grown together. We may recommend a different approach for each yard so call us to set up an onsite consultation or contact us to request an estimate.