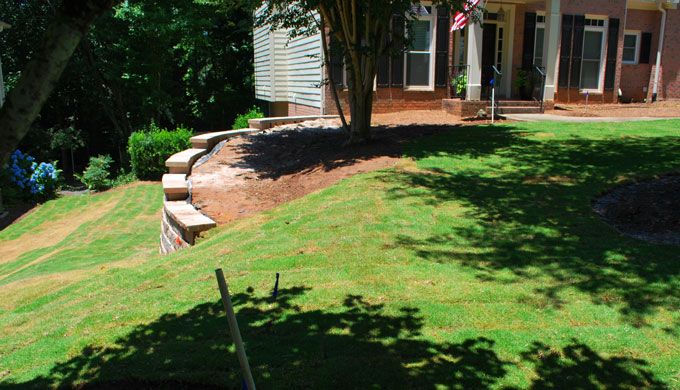 Replacing Your Sod and What You Should Know
I love to hear "we just can't grow grass here". We can fix that. Here's how.
With all the right ingredients and proper maintenance, you can expect at least 10 years of healthy grass. Landscapes and lawn conditions change as our landscapes age, trees create more shade, and lawns are neglected. Over time, thinning lawns loose good top soil to heavy rains or large raindrops from overhead trees. Fix the soil before you invest in sod. Top soil is simply a higher ratio of organic and sandy components in the top layer of soil. Mixing in sand and compost materials "amends" your existing soil.
Zoysia sod is usually the best choice due to its ability to grow well in a wider range of conditions. In full sun or part shade, it will provide a thick and lush turf in a beautiful medium green color. Bermuda sod requires more sun light and is the least expensive sod available in our area. It requires more water and fertilizer to look its best, compared to Zoysia. Direct sun light is important. All types of grass require some direct sun. Choose the best sod type for your budget and site conditions.
Regular fertilizer treatments and ample watering are the ongoing components to managing a lawn. Most of us fail in this category by accident or by cost conscience decisions. A healthy deep rooted sod will require less supplemental watering and fertilizer. This is true, but don't ignore your sod until something goes wrong. The first signs of an unhealthy condition can be fungus or disease and either can be devastating to a lawn. The better approach is regular intervals for water and fertilizer applications to avoid potential problems.
Cutting the grass correctly is important too. Sharp blades leave clean cuts and less damage. They cut instead of rip. Mowing the grass often enough to only cut 1/3 of the height at a time and maintain proper height will give you the best results. Usually a lawn will need mowing every 7-10 days. Cutting it taller leads to thinning and thatch build up and eventually unhealthy shallow roots.
Please read our other short articles at the beginning of this one, for more information on these topics.