Design work is the combination of planning ahead and art-full concepts. Practical use of space and beauty that fits your lifestyle and budget should be the primary considerations. We start by listening to your wants and needs. A step by step "plan of attack" and some reasonably accurate sketches are usually sufficient. You may just want to add a small-ish shrub bed with some colorful blooms or maybe you want a comprehensive plan that will involve an outdoor gathering structure and many other components. Maybe it's all done at once or maybe it will be an ongoing project as budget allows.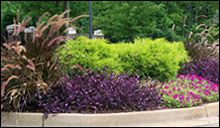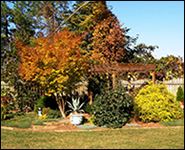 We plan the most practical order to accomplish the steps needed to save you money. For example, we get grading and drainage right before we plant sod where water stands after a rain. Next come hardscapes: items such as walks, walls and patios, then irrigation, drainage and lighting ditches. Most turf and bedding areas can benefit from soil amendments and or top soil, so this is the time for it. Now it's time to work our way down from the largest plant material (trees) to the smallest (flowers). Lastly, we plant the seed or sod and begin setting lighting fixtures, adjusting sprinklers, and spreading mulch.
Planting trees, shrubs and flowering plants follows the same steps to success as sod installation. Choose appropriate plants for site conditions, amend soils with rich organic topsoil for each plant, maintain the proper chemical and moisture balance with regular feeding, mulch and irrigation. We offer warranties with all plant packages when these steps are taken.
Simple designs that offer abundant plants with a variety of foliage color and blooms can be enhanced with hardscape items like boulders and rock edging. This charming country ranch uses natural stone lawn borders and boulders to define gardens and hold back soil in the raised bed near the entry walk way. This homes landscape design stays colorful from early spring to late fall with its stately trees and plant choices.