Dry Stack Stone Retaining Walls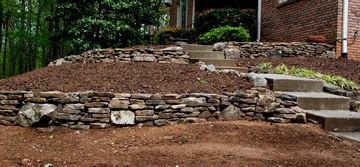 Dry Stack Stone Retaining Walls are probably the most natural look and can be achieved by stacking natural "Tennessee field stone." This customer wanted to break up a hill side with a couple raised garden walls among the sod he laid the next spring. This is also the next quickest garden wall style to build behind pressure treated timbers. With the ability to flow with the existing terrain and no need for a footing, these retaining walls are a good project for ambitious do-it-yourself-ers. Visit our how to build a retaining wall page for more tips.
Small accent details in your landscape can take less time than gathering the materials. We like to start by re-defining the sod edge with a flowing line cut into the soil. This also establishes a recessed area for the first stone course. The best techniques use more than one size rock. We take time to carefully fit each stone and pack the soil behind the rock wall as we go. A short (under 1 ft tall) garden wall or border will have more detail if small fieldstone is used. This terraced effect was built to correct ongoing erosion problems and drainage problems while working among existing plants. When we build a stone wall taller than 1' we use larger fieldstone. For retaining walls installed taller than 2', we recommend using mini-boulders (100+ lb.) as anchors every few feet. Boulder retaining walls can be a great way to use an abundance of on-site boulders. Walls built this way do not need to be solid rock. A mix of rock and soil on a 45 degree slope works well if erosion is controlled.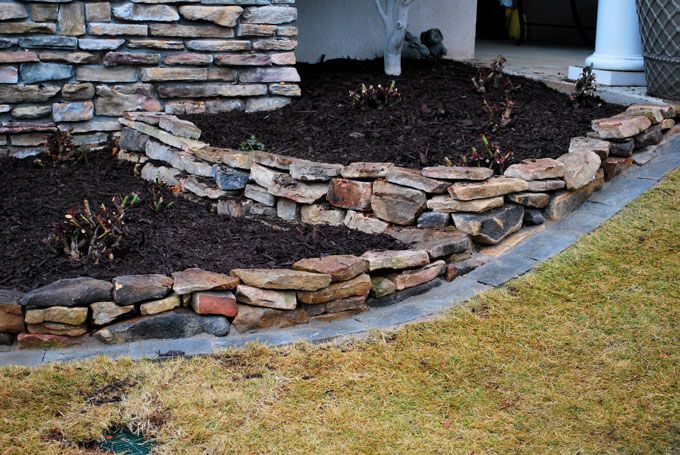 Stack Stone & Flag Stone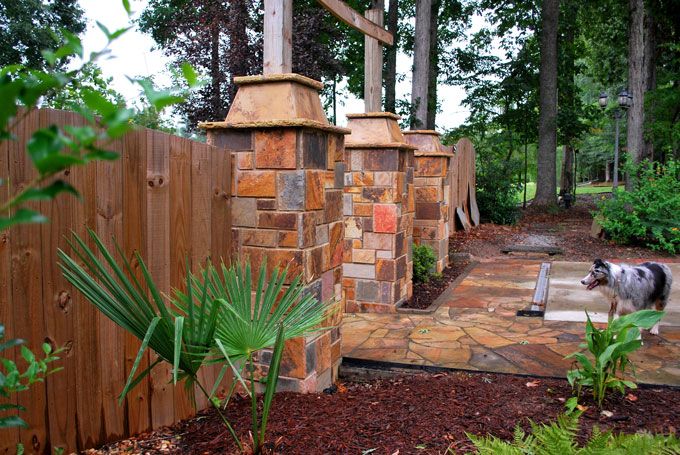 Stack stone & flag stone are other types of stone wall construction Landscape Innovations offers. These types of stone retaining walls are mortar & concrete block masonry wall. They need a concrete footing, and good drainage behind the wall. They are covered (veneered) with either natural or man-made (synthetic stone). If you want to match your existing rock work or create a new design element for your landscape this style retaining wall, offers the most natural color choices but also costs more than any other style wall.
Stack stone is the type of stonework where you see the edges of the stone and it looks layered. Flagstone uses less material and labor because it is placing the "flag" shaped pieces flat on the wall and covering the space more quickly. Cutting natural flagstone to specific shapes will add cost but can really create a personalized look.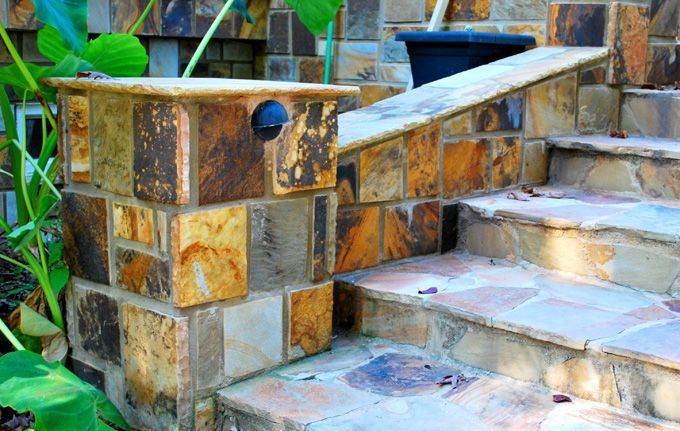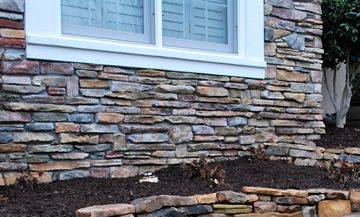 A stone column like this one uses individually cut flagstone pieces.
Other custom cut pieces can be used for architectural cues like key stones, coins or drip rails. The cost of synthetic stone work benefits from lower shipping costs and quicker installation times. Synthetic stone (man-made) is available in a wider variety of shapes sizes and colors than natural stone. Its flexibility has made it popular with architects and home builders as a design tool. Simple color and shape changes can yield entirely different looks.