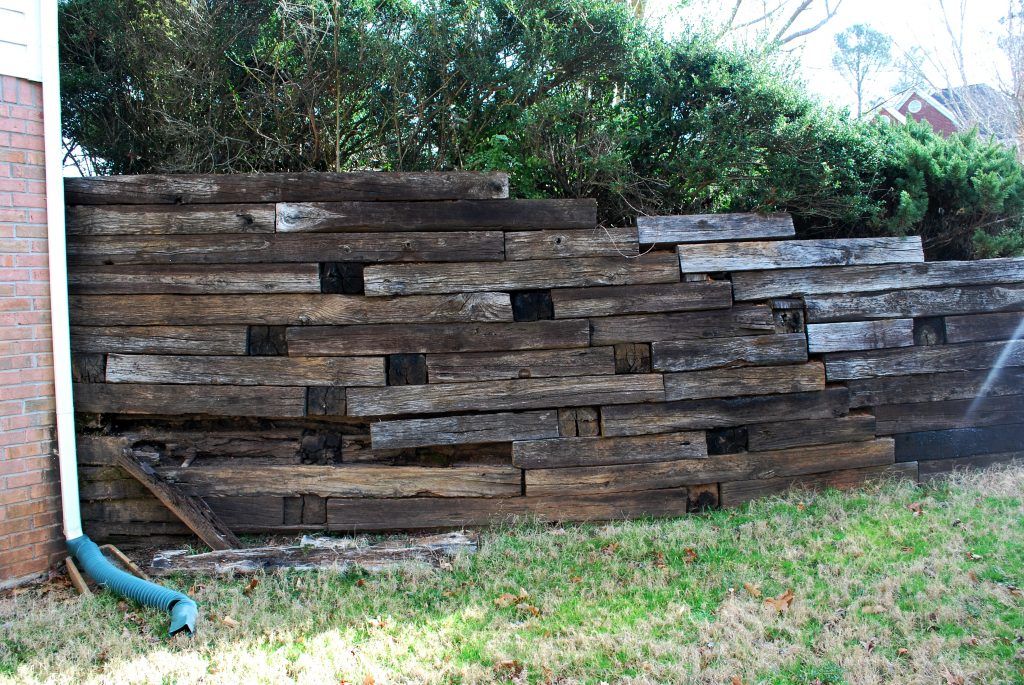 We have the experience you need to properly correct a failing retaining wall. We provide cross tie or Rail Road tie wall repairs if there are enough solid timers to work with. Replacing a few rotten timbers usually extends the life of a failing wall. Retaining wall failures usually occur because the wall cannot handle the forces placed on it. Rain water is the #1 reason for retaining wall failure. Hydraulic pressure & gravity (soil weight) will continue to settle soil behind the wall, constantly pushing outward until something moves. There are usually signs that there is a problem before failure occurs. Heavy rains may wash mud through the wall and create small sink holes on the back side of the wall. You may start to see larger gaps in portions of the wall between the timbers or blocks the wall is constructed out of.
This wall was built without any "dead men" or "purling". Notice the wall was bulging at the 2nd vertical post. It was about 4' tall and began bulging about 2 years after the pool above it was built. When the repairs were finished, the initial costs and repair costs totaled more than a properly built wall would have.
We are fortunate to have a Pavestone retaining wall block manufacturing plant in Fayette county and Coweta county. This means we pay less for shipping to local cities like Peachtree city, Fayetteville, Tyrone and Sharpsburg.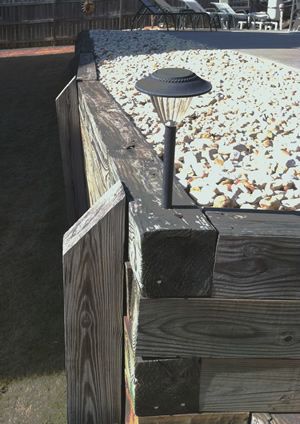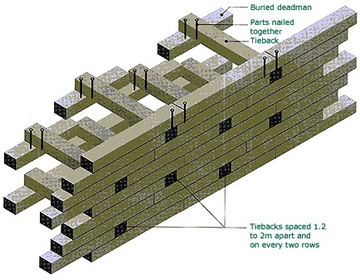 Always divert rain water around retaining walls and away from foundations when possible. We can replace rotten wood timbers in both pressure treated or RR tie / cross tie walls. Whether you need simple rotten wood replacement or re-assembly of large composite block wall, (segmental retaining wall blocks) always following manufacturers recommendations to ensure the repairs or new wall will last a life time. We have the knowledge of experience to make the next wall or repairs last. Contact us today for a quote. Visit our Retaining walls page for more information.