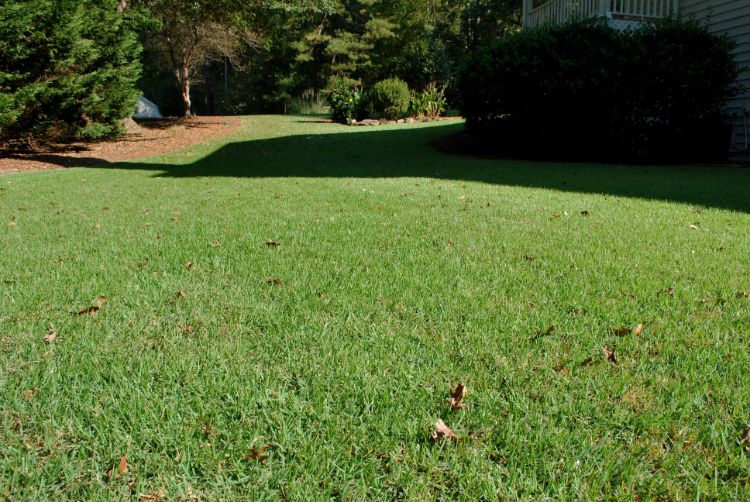 Shade Tolerant Grass
Fescue, Zoysia, St Augustine
Please realize there's no such thing as "Shade loving grass." Three hours of direct sunlight with additional hours of filtered light are necessary to grow any sustainable grass. You can improve your chances with better soils, proper fertilizing schedules and ample watering. Consider cutting lower limbs where possible or removing trees completely. The 3 best choices of shade tolerant grass are Zoysia, St. Augustine, and Fescue.
The best Fescue blends are still the heaviest maintenance lawns for our area. They require re-seeding 1-2 times per year and they need loose, well drained soil (sandy organic top soil works best.) Fescue cannot tolerate the heat of our summers, especially in our clay based, poorly draining soils. They are also prone to having fungus problems in the Spring and Fall when ground temps and moisture levels are prime for germinating new seed, and weed control is much more difficult in fescues. Fescue will not spread without re-seeding.
The rare Fescue lawns I see that are thriving year after year are always in excellent soil, shaded from the harshest summer afternoon sun and belong to people that spend an enormous amount of time and energy in their yards. If you insist on an evergreen lawn, Fescue is your only permanent choice. You will need to amend your soil to achieve a well drained & organic soil and will need to have a means of regular watering during active growth months. You will also need to "core Aerate" the lawn and over-seed 1-2 times each year to maintain a thick coverage of Fescue only turf. I only recommend Fescue as a way of stabilizing soil in new construction. Most of these sites wind up with lots of weed seeds that are present, germinating as the fescue does. If the owner simply wants a green lawn, Fescue is by far the most economical approach. Fescue sod is another option to help fight weed infestation.
Zoysia, (my personal favorite) is a much more dense turf, far fewer problems with fungus, loves the heat and sunshine and tolerates shade best. It never needs re-seeding, can grow in poor soils much better, and weed control is MUCH easier on the rare occasion that weeds are able to make a stand. Zoysia will still benefit greatly from amending soil as the area is prepared for sod. Please visit our sod prep page to read more they are both about the same price if Fescue isn't a bit higher.
St. Augustine is probably the second best choice in our area (Peachtree City, Fayetteville Ga). It has hearty runners and thick blades and is classified as a vine rather than a grass. As a close cousin to Centipede, it will creep, spread and rejuvenate itself. It can be very dense in full sun and tolerates heavy shade well also. There are less choices for weed control than with Zoysia, but St. Augustine is more tolerant of our clay based acidic soils.
All three of these grasses are available from regional sod farms and the visual differences of these choices are great. In the Zoysia family, Emerald is the fine blade and Myers is the medium size blade. St. Augustine is the widest or coarsest visual texture. Fescue color and visual texture can vary depending on hybrid seed type, the recommended "Turf type" Fescues will usually be a medium sized blade and the deepest green color of the choices. They are all premium priced grasses because they are in less demand and grow more slowly than other choices.