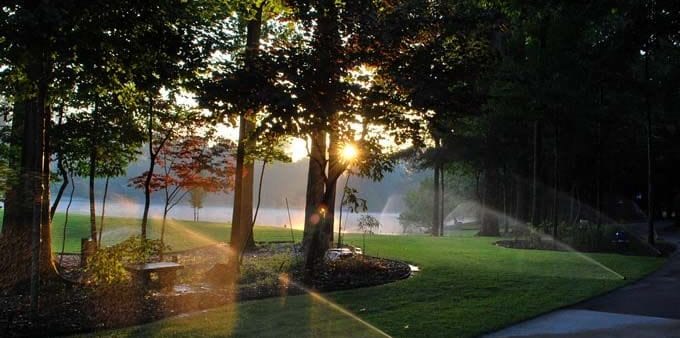 Are You Watering Your Sod Too Much?
On the day of new sod installation, someone should be home to babysit the watering efforts for the new investment. We have our hands full getting the grass on the ground and the details completed. WE DO NOT take responsibility for watering new sod, not even with an irrigation system. No irrigation system is perfect. Compromises must be made to design a system that is both cost efficient and doesn't place water where it is not wanted. High winds, extreme slopes or temperatures, and several other factors can affect the efficiency of an irrigation system so you need to be there to make sure all is well.
Years ago, we had just finished a project and clouds were gathering. A popup summer storm was on its way. We ( the customer and I ) figured it was about to get free water so we cleaned up and left and the customer headed out to work. The storm produced a lightning strike that killed the irrigation timer but never actually rained. The sun came back out and the temperatures climbed above 95 degrees. The new sod sat un-watered for the entire afternoon in full sun & 90 degree heat with no water. By the next day the sod was in really bad shape and required a couple months of TLC to return to the healthy grass he had purchased. TOO MANY THINGS CAN GO WRONG. It is a large investment so MAKE SURE someone responsible is available on the day of installation.
Water twice daily for the first 2 days
Water daily for a week
Water every other day on the 2nd week
Water every 3rd day on the 3rd week
While it is true that new sod needs a lot more watering than mature turf it is also possible to over water. Over-watering your new investment can lead to fungus or root rot. The first few days are the most critical. Water enough to make the grass "very wet" one time. This ensures every inch of new sod has gotten a complete and thorough watering but it also insures dry soils underneath have been re moistened. The dry soils created by the preparation process can be so dry that they will "wick away" the soil from the new sod until they have been re-moistened. To check for this, simply fold back a corner of the sod in several places and scratch the soil away an inch deep. If the soil is muddy, even hard to walk on, stop watering until it can been walked on without foot printing. If the soil is dry, water again in intervals of no more than 30 min, much less in some cases, until no dry soil remains.
Watch out for these signs that your sod that has had a little too much to drink!
1. Soggy Sod

If you can lift up your sod and it feels like a sponge loaded with water, then that's not a good sign. Slow down your volume of watering.

2. Sod Isn't Rooting Into The Prepared Soil

After the first seven days, check your sod weekly to verify that is producing new white, fuzzy roots. The grass should be attached to the soil within three weeks. If it still hasn't rooted after 3 weeks, watering is probably an issue.

3. Roots Start Rotting

Watch out that the roots on the sod don't start rotting. If a portion of the lawn looks more saturated or matted down and seems to stay wet longer, root damage may be occurring. Sod needs a balance of water and oxygen to produce a healthy root system. With too much water, they can essentially drown.
New sod does need daily watering. Sometimes new sod should be watered more than once a day, in fact. If temperatures are near 90 degrees and the new sod is in its first week, it may need twice daily watering for a few days. Baking sun shine and high temperatures can mean much of your watering efforts are evaporating. But make sure you pay careful attention to how much water it's getting. If the area looks too saturated, adjust the amount and/or frequency of watering.
Professional Sod Tips And Services
For the best-looking lawn in your neck of the woods, you can't do any better than Landscape Innovations. We're Fayetteville's pick for best landscaper and we're ready to make your home match your dreams. Call us today for more suggestions on keeping your lawn lush and healthy.